Prof. Tetsuya Aizawa's Group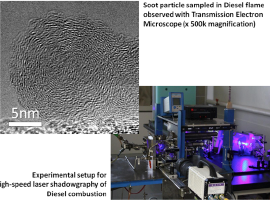 The environmental Opto-Diagnostics Laboratory, led by Prof. Tetsuya Aizawa, specializes in advanced opto-diagnostic techniques based on lasers, spectroscopy, high-speed and/or ultra-fast imaging, and transmission electron microscopy for detailed investigation and control of combustion processes, especially the formation and reduction mechanisms of harmful pollutants produced by internal combustion engine systems. The ultimate goal of this group's research is to develop clean and efficient next-generation combustion devices and systems and thus contribute to the realization of a sustainable future society. The laboratory's research activities are greatly enhanced by a discussion-intensive atmosphere, multiple ongoing contract research projects with major Japanese automotive manufactures, and international collaborations with national laboratories and universities in the United States, France, Sweden and Australia.
Prof. Masato Inoue's Group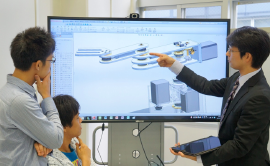 Research in the Design System Laboratory aims to develop design support systems based on the mechanical engineering. The system supports the work of designers/engineers, fostering idea generation and enhancing their capacity to create products. Current research focuses on the development of design support systems that facilitate computational simulations based on computer-aided design (CAD) and computer-aided engineering (CAE) to enhance design and production at an early phase, referred to as conceptual and embodiment design, in order to help achieve a sustainable world. We actively pursue collaborative research with universities in Europe and Asia, and are often visited by research scholars from Germany and various countries. Our systems can be applied to the design of diverse industrial products from, for example, the automobile, airline, building, and home appliance industries. It is the hope of our research to make designers' dreams a reality.
Prof. Taichi Matsuoka's Group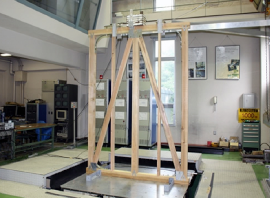 Mechanical Dynamics Laboratory, we have researched about Vibration and Damping. What is a Vibration ? There are so many vibrations around our life, not only machines, and also earthquake is one of it. It is important problem for machines, structures and buildings to protect from vibration, shock and earthquake. So we have been developing some new vibration control devices, dampers, isolators, for example a vibration control device that generates an electric power, a semiactive damper that has a controllable viscosity using a functional fluid, and a spring damper using a viscoelastic material. In the laboratory, the students together with master course students discuss about a design, make it using machining tools in our factory, and build up the experiments themselves. Several vibration tests are carried out with a cooperating worker by using a shaking table which is able to demonstrate some earthquakes with three directions or an electric servo fatigue test system. There are some troubles in processes and experiments, but I hopefully want them to try something new challenge. Let's Challenge and Let's Enjoy for your life in MDL!